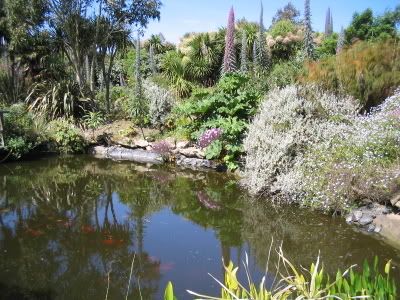 Just before we went on holiday, amidst the blur of 'things I must finish at work', 'clothes I must wash & dry to take away', 'important documents I must find to enable us to go abroad' etc, I happened to see a programme on CBeebies channel. It was 'Barnaby and Becky' (about a small bear who goes on adventures usually without the little girl Becky). In this particular episode, Barnaby went on a Ferry across to Roscoff (in Brittany), where he had a crepe and explored 'le jardin exotique' (an usual tropical garden). When I saw it, I forgot the grown up tasks I needed to complete to go on holiday and was filled with holiday excitement because we too were going to go on a Ferry to Roscoff, and I had every intention of having crepes too!
On the penultimate day of our holiday, Paul motivated us out of our holiday 'laissez-faire' and we went to Roscoff's 'jardin exotique'. It was fabulous, a wonderful tropical garden, overlooking the Channel. Even as a novice (and 'do it when I have to') gardener, the plants and setting were awesome! And Ellie thought it was wonderful to find long leaves, and sticks, to trail along the ground. The weather was also tropical too, which added to the illusion of being much further away than Northern France. And, to top it all, I was walking along the very path that Barnaby had been on!
Anyway, impossible though it is to show the magic through the pictures, I thought I'd show you a couple anyway.