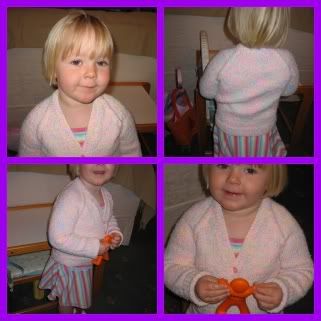 Ellie is a very lucky girl - not only can her Nana, and great-grandma knit for her but so can her Auntie!!
See the evidence. Yes I know that Ellie's head is chopped off in some of these, but for once it's not about Ellie (!). It's about the cardigan. It fits beautifully, with a little room for growth. (The sleeves are turned over once)
PS the beautiful subtle colours of the cardigan are not best set off by the stripy dress, but it's what Ellie was wearing when it came in the post.